Lidl website, main sections, reviews
Table of contents: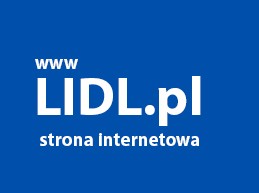 Lidl Polska is the website of the popular Polish grocery chain Lidl. The site offers users a user-friendly and intuitive interface for purchasing food online. Its design is easy to navigate, allowing users to conveniently browse a wide range of products, including groceries, household items, personal care products, and more.
The main sections of the service are:
Home page, displaying featured products and latest offers;
Product categories allow customers to easily browse through a variety of groceries, household items, personal care products and much more;
The shopping cart allows customers to conveniently view and manage their purchases;
My Account, allows customers to manage personal information, view order history and save delivery addresses;
Promotions, present the latest offers and available discounts;
Help and Support provides detailed information on delivery, returns and other frequently asked questions.
The homepage of lidl.pl is the initial page customers encounter upon entering the site. It provides an overview of the store and its offerings. The homepage showcases a wide selection of products, including featured and popular categories, as well as the latest offers. Additionally, you'll find sections highlighting special promotions, such as discounts on selected items, seasonal promotions, and limited-time offers. The homepage also includes a search bar, enabling customers to conveniently search for specific products.
Stationary offer
"Stationery Offers This Week" is a section on the lidl.pl website that showcases the latest promotions and deals available on the platform. This section is regularly updated with new offers, providing customers with the opportunity to save money on their purchases.

The "Stationary Offer" section on lidl.pl provides customers with clear information about current promotions and discounts. It includes product images, descriptions, and price details that are readily accessible. While browsing through the offers, customers can conveniently add selected items to their shopping cart with just one click. The offers in this section may include discounts on specific products, promotional bundles, buy-one-get-one-free deals, and various other enticing offers.
Online offerings
The "Online Offer" section on lidl.pl provides customers with a convenient online shopping experience. Customers can explore a diverse range of groceries and more. Additionally, the online offer includes special promotions and discounts that can be easily discovered and applied during the order placement process.
Product of the Day!
The "Product of the Day!" section on lidl.co.uk presents a daily selected product that is available at an attractive price. Each day, customers can discover a new product that is highlighted as "Product of the Day" with a chance to save
Gift card
Gift card on lidl.pl is the perfect solution for those looking for the perfect gift. The lidl.pl gift card allows gift recipients to choose from a wide range of products available in the store. It is the perfect solution for those who want to give loved ones the opportunity to choose a gift themselves. The lidl.pl gift card is easy to use and allows you to provide a unique shopping experience for your gift recipients.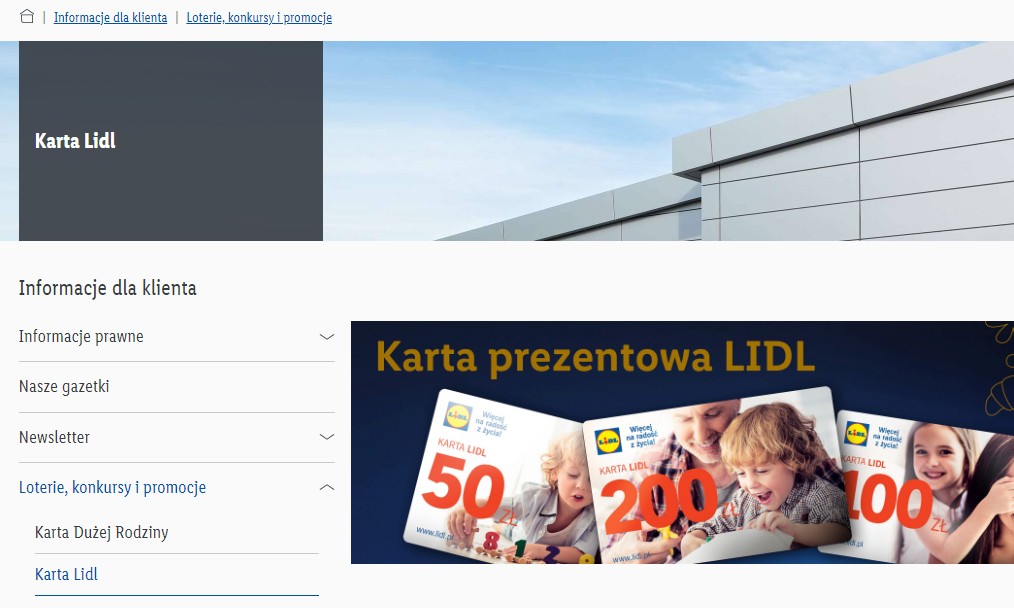 With the "Gift Card" account, customers can:
Select and purchase a gift card online.
Personalize the gift card by adding a dedication or greeting.
It's easy to send a gift card via email or snail mail.
Decide on the value of the gift card, tailoring it to your preferences.
Allow the recipient to freely choose the products that interest him or her most.
Large family card
The Large Family Card is a program that offers numerous benefits for families with multiple members. With this card, customers can enjoy additional discounts and promotions on products available at Lidl stores. The program also allows easy account management, monitoring of spending and access to personalized offers tailored to families' needs and preferences. The Large Family Card is a great way to save money and provide convenient shopping for the whole family.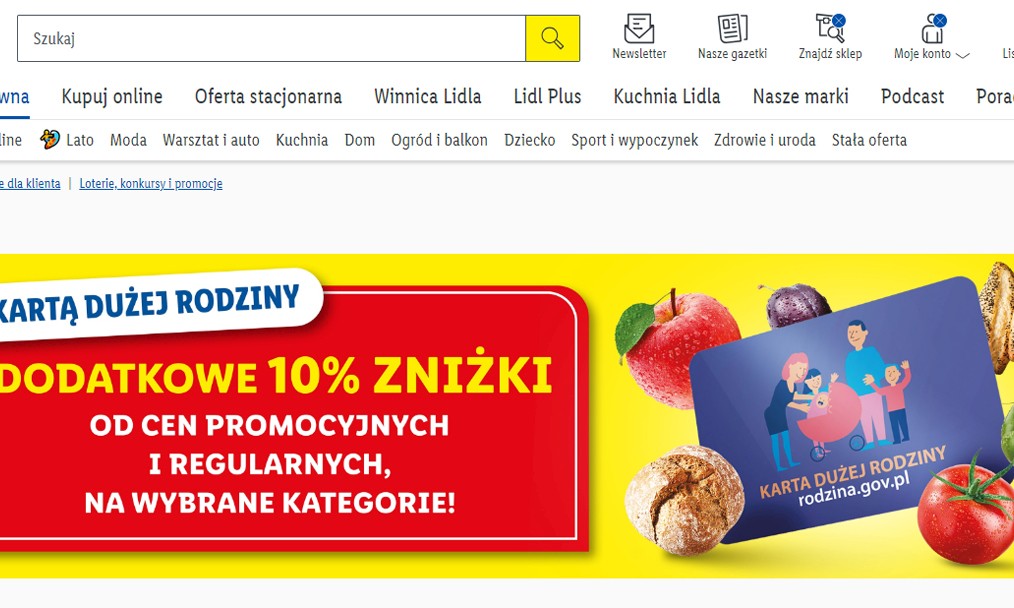 How to get a discount?
It is required to have a Large Family Card
The discount applies to selected products included in the campaign.
The discount from this promotion may be combined with other discounts or entitlements from other promotions, unless otherwise specified in the terms and conditions of the action.
In order to take advantage of the discount, a Large Family Card holder should, before paying for purchases at a Lidl store, inform the cashier that they have a Large Family Card and wish to take advantage of the discount. You should also present the Large Family Card together with an identity document containing a photo (ID card, passport, driver's license).
Lidl Plus app
Lidl Plus app is a mobile app available for both Android and iOS devices that provides customers with a convenient way to do their grocery shopping on the go.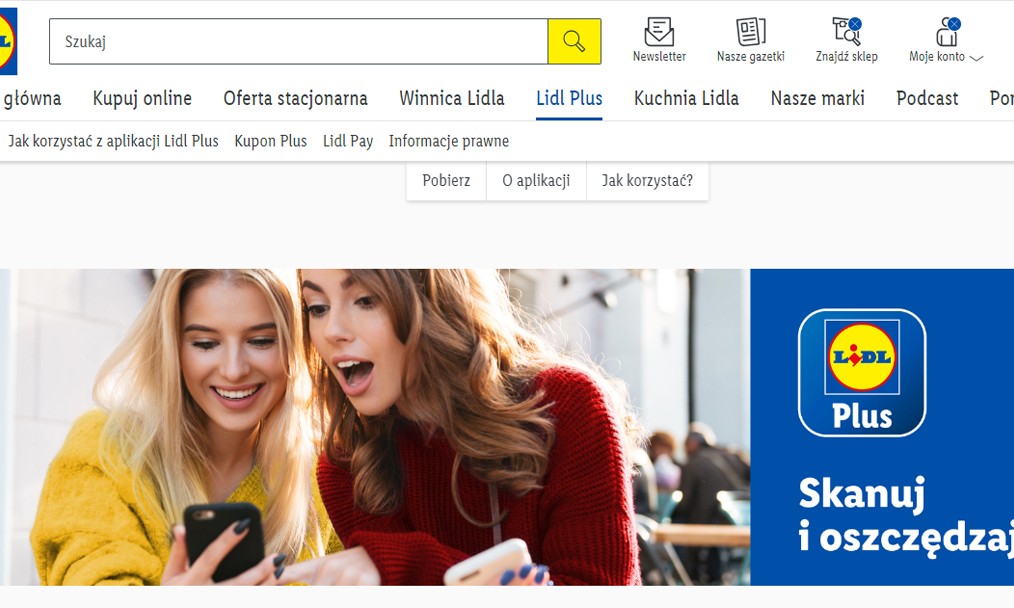 Hotline
Section "Hotline" on the website www Ladybug.com/contact is a customer service section that provides information and support to customers. It contains a number of resources and tools to help customers solve problems and answer questions about the site and its services.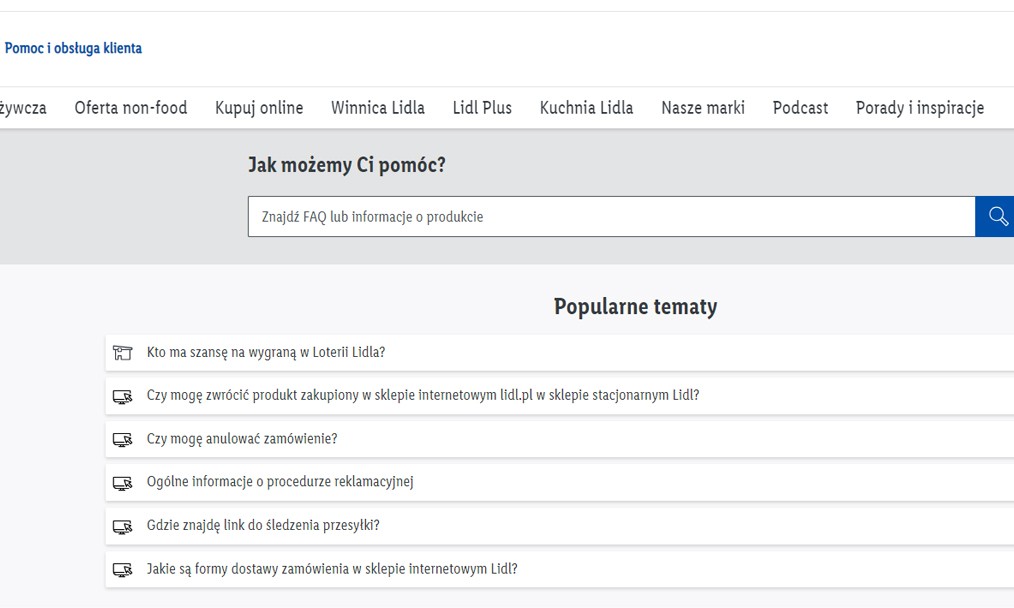 The Help and Support section of www.lidl.pl is where customers can get the help and support they need through the various options available, such as phone, email, live chat and an online form. By making these resources and tools available, Lidl aims to provide its customers with a positive shopping experience and the efficient and quick assistance they need.
Overall, lidl.co.uk provides customers with a simple and convenient way to shop for groceries online and order delivery directly to their door.
Online store information: Free delivery from 199 PLN: Delivery costs for items with non-standard (overall size) dimensions may incur additional charges, of which the customer will be informed before payment.
Links